Iranian President Mahmoud Ahmadinejad has reportedly ended his week-long refusal to attend to any official duties and returned to work today, chairing a cabinet meeting. It was the first meeting he attended since April 22.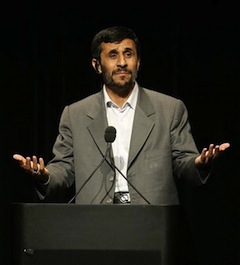 Ahmadinejad had missed the two previous cabinet meetings following an incident on April 17. Ahmadinejad ordered Intelligence Minister Heydar Moslehi to resign, and he was reinstated minutes thereafter by Supreme Leader Ayatollah Ali Khamenei. The move led to reports of a split between Khamenei and Ahmadinejad.
With Ahmadinejad withdrawing from public life, Vice President Rahimi took on his duties through yesterday. Then 216 of the 290 MPs released a letter urging Ahmadinejad to return to work, warning him not to resist Khamenei's orders.
Officials publicly downplayed the significance of the standoff, but it appears that the move was a serious rebuke of Ahmadinejad. It is not the first time the two have reportedly clashed, and even if the president has backed down it seems there is lingering tension.
Last 5 posts by Jason Ditz