With the Bahraini government's state of martial law continuing and 1,500+ foreign troops still operating in the country, the crackdown on Shi'ites is still escalating. A statement from the leading opposition party, al-Wefaq, reports that security forces attacked two hospitals today.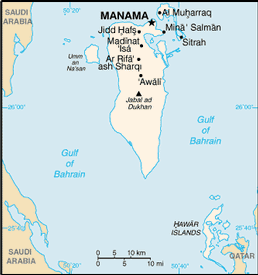 Al-Wefaq official Mattar Ibrahim Mattar says that the security forces arrested doctors and other hospital staff en masse during the raids, and his brother, who works at one of the facilities, is being held at an undisclosed location, and cannot be contacted.
The regime has regularly barred injured protesters from hospitals, and has accused Shi'ite doctors of helping to "organize" the demonstrations. Some of the capital city of Manama's biggest hospitals have been sealed off from the public entirely on this basis, forcing those wounded in the ongoing attacks to rely on the smaller hospitals and clinics in Shi'ite neighborhoods for treatment.
Officials defended the continued crackdown on Monday, with Prime Minister Khalifa accusing the protesters of a "coup attempt" and vowing to hold those who demanded reforms "accountable" for their dissent.
Before the crackdowns, the al-Wefaq Party held 17 of the 40 parliamentary seats, but all 17 MPs resigned to protest the killings of protesters. The Bahraini government announced last week they would ban the bloc for "threatening national unity" but retracted the ban shortly thereafter.