Speaking today at a conference, State Department special adviser Robert Einhorn, insisted that Iran was nowhere close to "breakout capability" for the production of a single nuclear weapon, though he insisted he believed Iran would like to reach that capability at some future point.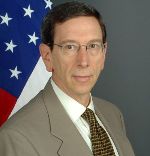 At the same time, Einhorn also conceded that he had no idea if Iran had even made any political decision related to making a nuclear weapon and speculated that the nation, which has repeatedly ruled out creating such weapons, is "undecided" and the leadership is "divided" on the scheme.
Einhorn added to this that the international sanctions against Iran are "taking a big toll" and chided Iran for not being willing to negotiate seriously. Which must eventually give rise to the question of what the negotiations are supposed to be about.
The US continues to demand Iran halt its civilian nuclear program, but the demand seems particularly ridiculous couched in the terms Einhorn presented today, of a government nowhere close to acquiring nuclear weapons and at best "undecided" on the prospect.
Last 5 posts by Jason Ditz