At least 18 people were killed today and several hundred were wounded when mercenaries loyal to Moammar Gadhafi attacked the western city of Zawiya, the biggest of a number of clashes across the nation that left at least 37 dead.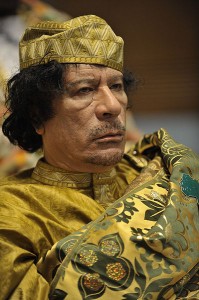 The Zawiya attack started with the mercenaries opening fire with mortars and machine gun charges against protesters on the outskirts of town. The casualties in the attack overwhelmed the local hospital, and witnesses say it is running out of supplies.
But while the State TV channel claimed that the mercenaries had retaken the city, just on the outskirts of Tripoli, rebel forces inside the city insisted that this was not the case. Though the exact status of the city is unknown at this point, it appears the rebels have control at least over the center of the town.
In addition to the attack on Zawiya, the regime also launched strikes against an ammunition depot in the Eastern city of Benghazi, which has become the de facto capital city of Free Libya. The explosion killed a number of people in the area.
Last 5 posts by Jason Ditz