Reports from the African Union about major fighting in the past two weeks had major numbers of insurgents and civilians being slain in and around Mogadishu, with only a handful of confirmed AU troops slain. It is now being confirmed that those reports were false.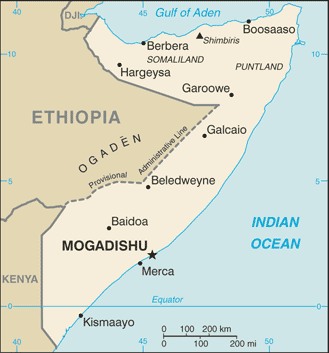 As has so often been the case in the past, the African Union spokesmen deliberately underreported their own casualties in the fighting, according to the Associated Press, which says that rather than six slain, as the official report insisted, at least 53 AU troops, largely Burundian, were slain in the offensive.
The offensive began on February 19, and was aimed at seizing more of the territory in the capital city for the self-proclaimed Somali government. The fighting calmed down recently, and the reports were noteworthy because despite the claims of lopsided death tolls, the AU didn't appear to successfully take any territory.
The African Union has yet to comment on the revised death toll. Local medical personnel suggested that the civilian death toll was also like in excess of 100, somewhat more than had been previously acknowledged. The al-Shabaab insurgency likewise has yet to confirm the AU claims "hundreds" of their fighters were slain in the offensive, but as with the AU their reports on tolls are usually suspect.
Last 5 posts by Jason Ditz