Financial markets are still scrambling to figure out what exactly is happening with respect to Iranian ship movements toward the Suez Canal. The two ships have been confirmed as a supply ship and a frigate, and are said to be heading to Syria, which prompted Israeli Foreign Minister Avigdor Lieberman to threaten war yesterday.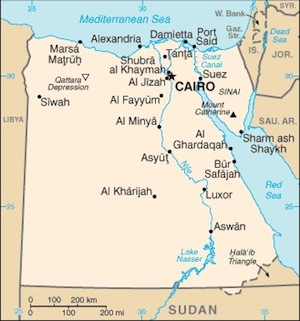 But today reports emerged that Egypt had canceled the crossing through their canal and was planning to block the ships. This was immediately followed by canal officials saying this was untrue. Mysteriously, they also said they had never even received requests for the ships to pass.
At the same time, Iran's state media quoted a naval official confirming that the ships are en route, and he said that the Iranians had already contacted Cairo officials about it. They were said to have no objections.
The fact that they apparently didn't tell canal officials about the crossing could speak to the lingering chaos in Egypt, which just last week saw a revolution and is now under control of an interim military junta ruling by edict.
This leaves an open question of what will happen when the ships arrive, and adds another level of uncertainty to what seems, on the surface, a pretty minor story that has been blown out of proportion by Israel's bellicose foreign minister.
But perhaps the real story is the disorganized messages coming out of Suez regarding the crossing. With the canal such an important aspect of the domestic (and global) economy, the uncertainty about what is going on is likely not a good sign.
Last 5 posts by Jason Ditz