With Egypt's US-backed dictator now formally an ex-dictator, Jordan is clearly on the short-list of possible next revolution candidates, with protests having already forced the sacking of the entire cabinet by King Abdullah II and the appointment of a new prime minister.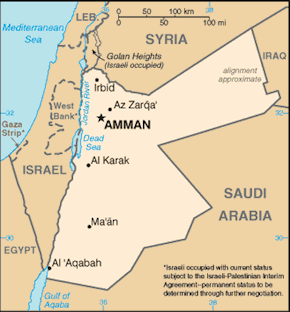 But having struggled to remain as non-commital as possible and reversing course several times during the course of Egypt's 2+ weeks of revolution, the Obama Administration's credibility in unquestioningly backing harsh dictators is fading, as is the belief by those dictators that the president's seal of approval guarantees their hegemony.
To that end, the Obama Administration is reportedly trying to reassure King Abdullah II that the US government has a "long-term commitment" to seeing his rule continue, praising his "political and economic reforms" even as protesters march in the streets.
For Jordanians, the issue is clear: the current system allows them only to elect the relatively powerless lower house of parliament, while the entire upper house, the entire cabinet and the prime minister are all appointed by the king.
For the Obama Administration, the notion that 80 million Egyptians might at some point get free elections is already something of a culture shock – officials were quite comfortable with them under the yoke of an ageless dictator. For Jordan to "fall" as well, by which of course we mean "fall to freedom," is a terrifying prospect for officials committed to the stability of the region as a bastion of tyranny, and the promise to support Jordan is likely not a false one, though it remains to be seen if the administration can do much of anything in the face of popular revolutions.
Last 5 posts by Jason Ditz