Today's speech may not have given the protesters what they wanted, the ouster of long-time dictator Hosni Mubarak, but they did reveal that Mubarak has turned the day to day operation of his regime over to his newly appointed Vice President Omar Suleiman.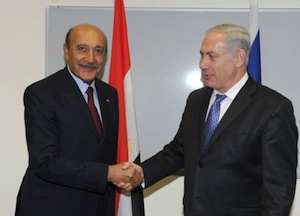 This is not entirely unexpected, as Suleiman has clearly been being groomed by the US and Israel as the next Mubarak when the aging dictator eventually leaves office, but it also isn't a source of any great cheer for protesters, despite the viceral hatred for Mubarak.
Because if there is one person as distrusted as Mubarak in all of Egypt, surely it is Suleiman, who has spent a long tenure as Intelligence Chief for a regime that not only tortured domestically, but turned it into an outsourced product for nations like the US, who shipped detainees to Egypt for mistreatment by the experts.
Suleiman's role in the Palestinian reconciliation talks is cited as a reason for his popularity in the West, but his apparent designs on being the new strongman and his constant threats and claims that the Egyptian people are not "ready for democracy" are not making him any friends domestically, and have him looking increasingly as just another dictator, something they've had their fill of.
Last 5 posts by Jason Ditz