In comments that will likely relieve Western concerns that the group would use its considerable popular influence to compete for power in a free election in Egypt, the banned Muslim Brotherhood has ruled out fielding a candidate for the office of president today, and insists it has no designs on any particular cabinet positions.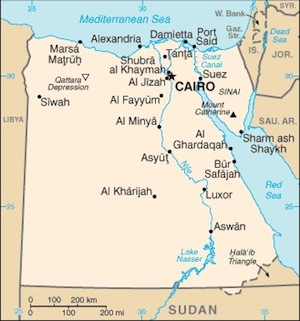 A statement issued today by the group said that "the clear popular desire (is) that Egypt be a civilian-ruled, democratic state" and that they would also support this position. They did however offer to play an additional role in negotiating the end of the Mubarak regime.
Though officially banned and openly persecuted, the Muslim Brotherhood is hugely popular in Egypt, and its official support for the growing protest movement dramatically swelled its numbers overnight, though it also fueled allegations from Mubarak supporters that the faction would attempt an Iran-style cleric-dominated government.
Despite the group's apparent good faith in the revolution, the Obama Administration continues to refuse to have any contacts with the organization, and has promised that they will not "recognize" the Muslim Brotherhood as a legitimate political participant. This may only be a rhetorical position, however, as clearly if the US had its way there would never have been a revolution in the first place, and they don't appear to hold particular sway with other opposition factions either.
Last 5 posts by Jason Ditz