Though the two-day talks in Istanbul, Turkey ended without a resolution, Iranian President Mahmoud Ahmadinejad appeared upbeat today on state media, as he called for the P5+1 to agree to additional talks related to their civilian nuclear program.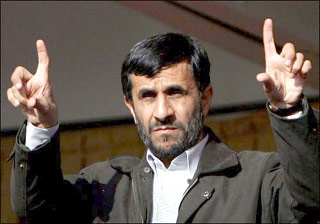 "We never expected the problems to be solved in two to three or four to five rounds, but if the other party is decisive, committed to justice and the law and respect, there is hope," Ahmadinejad insisted.
Though the first round of talks in Geneva ended extremely abruptly, the Istanbul talks appeared far more substantive, with the first day of talks lasting fully 14 hours. So far no third round of talks has been agreed to.
Though the talks appear to be inexorably stalled between Western demands for Iran to abandon its program in its entirety and Iranian pledges not to do that, talks related to the possible third party enrichment deal still appear to be possible, though again, hampered by two very different ideas of what such a deal should include.
Last 5 posts by Jason Ditz