Reports coming out of Lebanon today suggest that Walid Jumblatt, the leader of the Druze-dominated Progressive Socialist Party (PSP), is going to back the March 8 political bloc led by Hezbollah, effectively giving them enough seats to form a majority government.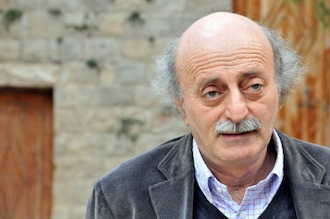 Walid Jumblatt
The PSP was originally part of outgoing Prime Minister Saad Hariri's March 14 bloc, but after the unity government became basically an independent faction and, as without them the split between the two blocs was 60 seats to 57, the de facto kingmaker with their 11 seat party.
While the original fall of the Lebanese government last week suggested that there might be a long-standing deadlock between the two factions, the surprising shift by PSP now points to Hezbollah going from the minority partner in a grand coalition government to the dominant player in a smaller majority government.
An interesting aspect of Lebanese politics however is that no member of the Shi'ite Hezbollah could ever be Prime Minister, as the National Pact obliges any government to give that position to a Sunni. This might actually set the stage for the installation of a member of Lebanon's tiny Ba'ath Party to the position, given the paucity of Sunnis in the March 8 bloc at present.