At a meeting today with large numbers of Democratic Congressmen, Vice President Joe Biden praised them for their support for the assorted wars the Obama Adminsitration has decided to fight, conceding that he understood the votes were "difficult."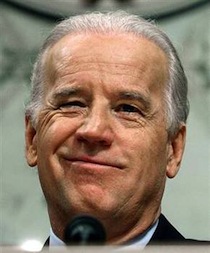 Biden went on to insist that it was vital for the US to "keep the commitment of this administration as it relates to Afghanistan" and thanks the Congressmen for their "courage" in supporting the continuation of the occupation, despite the massive unpopularity and growing death toll of the war.
Biden promised that the administration would strengthen its ties to the new, Republican House, which swept to power in November's election following the massive unpopularity of so many of the Democratic votes.
To that end there appears to be a growing split between the long-standing House Republicans, who are eager to rubber stamp anything that means a continued war, and the large influx of new Congressmen, elected to address concerns about fiscal irresponsibility, including the spiraling military budget.
Last 5 posts by Jason Ditz