With US officials still irked by the failure of the Israeli government to agree on a settlement freeze, Israeli Prime Minister Benjamin Netanyahu insisted today that it was actually President Obama who stopped the freeze and, in effect, the peace process.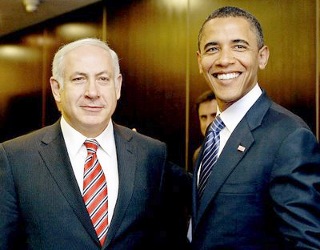 Netanyahu insisted that the Israeli government were fully prepared to vote in favor of a new settlement freeze "in spite of reports to the contrary" and it was President Obama who told him to "forget the issue," with the US president reportedly telling him it would "lead to an endless path of freeze following freeze."
The truth behind the claims is unclear, but it did seem that Netanyahu had the votes lined up to force a three month freeze in return for billions of dollars in US promises, though there was a considerable gap between this point and the US abandonment of the freeze, and no vote ever took place.
In the meantime, the Israeli government has approved massive settlement expansions, and appears to have come to terms with the end of the peace process, though there appears to be something of a revolt brewing in the Labor Party over the government's apparent comfort with the end of talks.
Last 5 posts by Jason Ditz