A large number of people have been killed in a major bomb blast at a bar next to a Nigerian Army barracks in the capital city of Abuja tonight, though officials have denied reports from the state media that the death toll could be as high as 30, with official police tolls between two and four confirmed dead and military officials saying 11.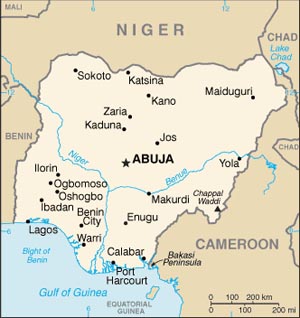 But reports from people on the scene describe scores of bodies littering the area, and it seems likely that the toll is going to continue to rise through the evening. So far no group has claimed credit for the attack.
Nigerian police have been conducting raids and mass arrests of people suspected of being linked to the banned Boko Haram organization, insisting the group was involved in the growing number of religious attacks over the past week.
Boko Haram was previously targeted in 2009, leading to the deaths of hundreds of its members, amid claims they were arming for a clash with the government. The group at the time, fiercely anti-intellectual, eschewed the use of firearms and bombs in favor of bows and arrows and machettes, claiming they were the only Quranically justified weapons. The group as it stands now appears to be much better armed, and a much bigger threat to the Nigerian government.
Last 5 posts by Jason Ditz