Israeli Prime Minister Benjamin Netanyahu yesterday centered his talks with Vice President Joe Biden around Iran, insisting that the US absolutely has to threaten to attack Iran a lot more often, and Iran has to believe that each one of those threats is credible.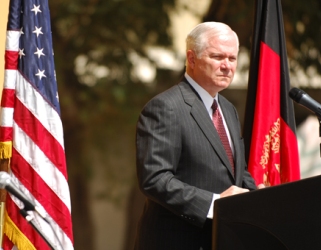 But Defense Secretary Robert Gates rejected those calls today. Speaking as part of his trip to Australia, Gates insisted that the existing UN sanctions and the current number of US threats are in fact "having an impact" on Iran.
The debate over policy and the comparative number of times the US needs to threaten to attack Iran in a given month comes just weeks ahead of the high profile P5+1 talks with the Iranian government, an effort to come to some sort of deal that would, ideally, end these threats.
But reports in the lead up to the talks suggest that he US is going to demand that Iran agree to an even worse deal than they demanded last year. Given that last year's deal took months for Iran to accept (and then was reneged on by the US) it seems the talks are poised to fail before they even begin.
Last 5 posts by Jason Ditz