The Obama Administration is said to be extremely concerned about the growing presence of the Haqqani network, formerly almost exclusively confined to the North Waziristan Agency, into the nearby Kurram Agency.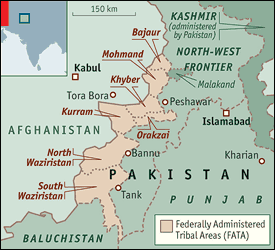 Officials warn that if the Haqqanis spread out it will make it even more difficult for the US to target them with their nearly daily drone strikes against North Waziristan, and are also intent on using the reports to press Pakistan on its long-reported invasion of North Waziristan.
But the report actually underscores why the North Waziristan offensive is doomed to failure, as it will drive large numbers of civilians from their homes and the militants will just quietly relocate, in this case likely into Kurram.
This was a major problem with the US-demanded Pakistani invasion of South Waziristan. The offensive targeted the Tehreek-e Taliban Pakistan (TTP) but netted no leaders. After it was reported the TTP's leadership moved to Orakzai Agency the military expanded the offensive there, at which time the TTP picked up and moved to North Waziristan. They have since moved back to South Waziristan, as the military has focused on attacking Orakzai and Khyber.
The militant groups are decidedly not territory-based and seem to be able to relocate around Pashtun regions with incredible ease. This has been a similar problem with US offensives in southern Afghanistan, in which many towns have been occupied multiple times only to have the Taliban leadership leave and return at a later date.
Last 5 posts by Jason Ditz