Just four days after taking over the position, Britain's new military Chief of Staff General Sir David Richards today told Parliament that he could not rule out the need to launch another massive Afghanistan-style invasion/occupation in Yemen.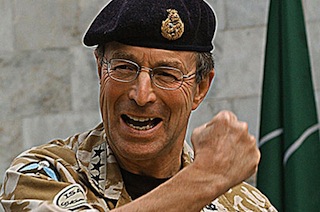 "I don't think we want to open up another front there and nor do the Yemenis want us to do that," insisted Sir David, adding that in the end it might be necessary to do so anyhow. He insisted, however, that right now the British Army's top priority was "making sure Afghanistan doesn't revert to becoming a second Yemen."
Britain's military participated in the US-led 2001 invasion of Afghanistan and has continued to participate in its occupation, now in its 10th year. There is no end in sight for the Afghan War, but increasingly interest is on starting a new war in Yemen.
Sir David's comments come in the wake of Prime Minister David Cameron's promise to do whatever it takes to "cut out the terrorist cancer" from Yemen. US President Barack Obama has also pledged to see Yemen's al-Qaeda in the Arabian Peninsula "destroyed,"
Last 5 posts by Jason Ditz