Britain and France are preparing for a formal announcement Tuesday of the most far reaching defense alliance in the two nations' long history. French President Nicolas Sarkozy will sign the declarations in London.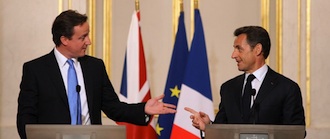 Chief among the declarations that will be signed are the long reported plan to share aircraft carriers as a way to reduce military costs. The deals will also include sharing costs on cyber warfare and research on weapons of mass destruction.
The driving force behind the deal is, as with most major military moves in recent months, cost concerns. Both Britain and France are strugglng with budget crises and, with the two largest military budgets in the European Union they are both looking to cut expenses wherever possible.
And while the deals will likely be successful in reducing costs in the near term, the pact may in the long term curb the nations' abilities to cut programs that are now "shared." In particular, a pledge to "share" costs on nuclear weapon development may make it considerably more difficult for Britain to finally abandon its nuclear arsenal.
Last 5 posts by Jason Ditz