Though the details of this process have been reported in the past, Major General Yusuf Osman provided confirmation that the soldiers working for the Transitional National Government (TNG) of Somalia routinely sell their weapons to the militant factions they are supposed to be fighting.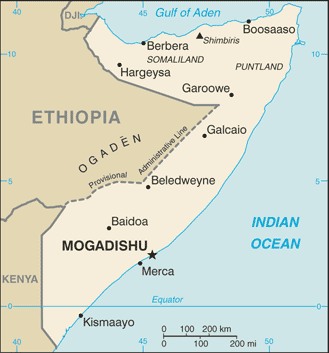 "The biggest source for rebels' arms is government forces," Osman confirmed. The US has been providing the dubious government, which controls only a few blocks in the capital city of Mogadishu, with massive amounts of weapons and ammo.
But those weapons and that ammo has been reported for years to be winding up for sale publicly at the marketplaces across Mogadishu, and more often than not militant factions seem to be armed almost exclusively with the US provided arms.
The problem of "lost" weapons has been a regular scandal for the TNG, which fired Osman's successor General Kahiye last month when they discovered that he had been stealing weapons by the crateload to sell on the open market.
But Maj. Gen. Osman insists the process is far broader than this, and goes back to the reality that many of the troops, though they are supposed to earn a regular salary of $100 a month, haven't been paid in several months. Instead of deserting, the troops are making ends meet by syphoning off the excess weapons.
Last 5 posts by Jason Ditz