In the first official US State Department response to the massive WikiLeaks release of classified Iraq War documents, spokesman P.J. Crowley shrugged off the evidence that US troops were ordered to cover up detainee abuse by the Iraqi government, insisting the abuse wasn't America's problem.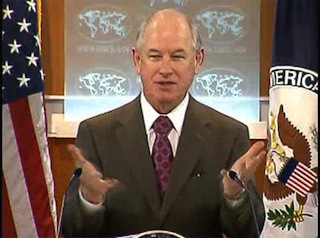 "If there needs to be an accounting, first and foremost there needs to be an accounting by the Iraqi government itself, and how it treated its own citizens," Crowley added. Under Frago 242, US soldiers were ordered not to investigate any abuse by Iraqi government officials.
The State Department stance is surprising, as when the Saddam Hussein government in Iraq was accused of the same abuse the department insisted it was the international community's duty to intervene. Now that it is a US-installed government, the abuse is a completely internal matter.
The WikiLeaks release documented a myriad of abuse by Iraqi security forces. The Iraqi government has promised to set up a committee to investigate. among other things, the widespread violation of human rights. Prime Minister Nouri al-Maliki, however, already condemned the release as an attempt to sabotage his second term in office.
Last 5 posts by Jason Ditz