Former Marine General James Jones has announced today that he is "resigning" from his position as President Obama's National Security Adviser. President Obama praised Gen. Jones for what he called "astonishing" progress on the international stage. though it is widely believed he was forced out by the president.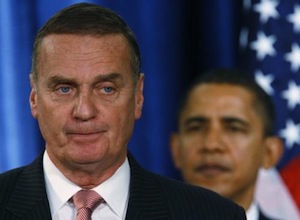 Jones had been reported to have clashed with a number of other top administration officials and was reportedly on bad terms with President Obama despite his public praise today. Jones' repeated calls to "get tough" with Pakistan appear to have been a top issue. He will be replaced by Tom Donilon.
Donilon, a close adviser to President Obama, is said to have been an outspoken opponent of the escalation of the war in Afghanistan, and was condemned by Secretary of Defense Robert Gates in the new book Obama's Wars.
According to author Bob Woodward, Secretary Gates had condemned Donilon for his lack of deference to military commanders. Gates insisted today, however, that he had a good working relationship with Donilon.
Last 5 posts by Jason Ditz