In an extremely rare opinion poll in Pakistan's Federally Administered Tribal Areas (FATA), a vast majority (over 75%) of tribesmen oppose US drone strikes against their home territories, and a large number harbor a deep resentment against the US because of them.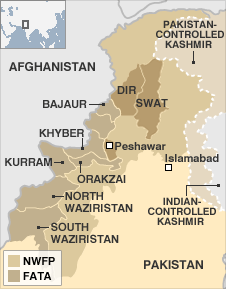 The poll, conducted by the New America Foundation and paid for by a US Congress funded thinktank, showed that large majorities believed civilians were being killed in the drone strike, and some 60% believing retaliatory attacks against the US military are justified.
The poll showed that decisive majorities of the tribesmen opposed both the United States and the Taliban, though most labeled the US "most responsible" for the violence in their territory.
Though it is hardly surprising that the violence has ended up enormously unpopular, the poll also showed Pakistani Army Chief Gen. Parvez Kayani as the most popular individual in the region, and 79 percent believed FATA should be governed by the military. This may point more to the unpopularity of the civilian government, however, than actual popularity for the military.
Last 5 posts by Jason Ditz