Though Pakistani officials are once again complaining about the regular US air strikes against their territory, CIA Director Leon Panetta today insisted that the attacks would continue. Panetta also was quoted as saying the drone strikes are achieving "100 percent results."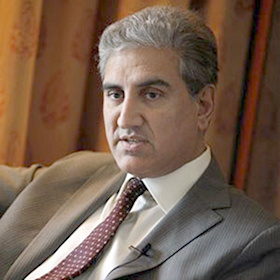 Pakistani Foreign Minister Qureshi
The Zardari government has been long confirmed to have deals with the Obama Administration about the drone strikes, but a new round of concerns have been issued since this weekend's incursion by US attack helicopters, and it seems to be extending, at least rhetorically, to the drones as well.
Pakistani Foreign Minister Qureshi today insisted he made the country's position clear that continued strikes are unacceptable, and that the attacks amount to a NATO violation of Pakistan's territorial integrity.
President Obama has been dramatically escalating the drone attacks since he took office, and has continued that escalation to the point where over 20 attacks have been reported this month alone. Though the US claimed a recent victory with the killing of yet another "al-Qaeda third in command" this week in one of the drone strikes, the claim of 100 percent results appear absurd on the face of them, as he was the first high value target killed in months, and large numbers of civilians have died in the regular attacks.
Last 5 posts by Jason Ditz