After raids by militants from multiple factions, African Union troops responded as they so often have in recent months, by shelling the most crowded marketplace in Mogadishu. The attack on the Bakara Market left at least 20 civilians, including a number of women and children, dead and 86 others wounded.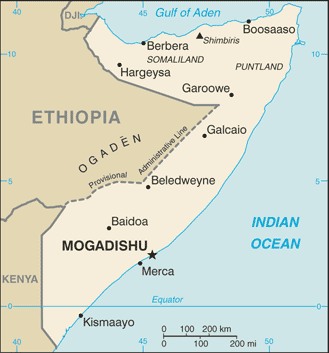 As to the details of the fighting that preceded it, the African Union claimed to have killed 25 militants, members of either Hizbul Islam or al-Shabaab, while losing only one soldier of their own. Al-Shabaab claimed to have killed at least nine AU troops on their own, while Hizbul hasn't commented yet.
Though the militant groups' attacks on government sites are almost exclusively free of civilian casualties, if for no other reason than that the self-proclaimed government doesn't control much territory which contains any civilians, the AU has regularly responded with attacks into the most densely populated parts of the country, reasoning that they are "legitimate" targets because they are under militant control.
Bakara Market, a large and crowded food market, has been a popular target. Shellings of the market in "retaliation" have become virtually standard operating procedure for AU forces, a fact lamented in some leaked reports from AU leadership about the number of deliberate attacks on civilian targets. Despite the recognition of this problem, the situation does not seem to be changing and the market remains a target.
Last 5 posts by Jason Ditz