With the pre-release excerpts of the new Bob Woodward book Obama's Wars bringing new attention to the Afghan War, President Obama's apparent interest in having some sort of exit strategy in Afghanistan is one of the main focuses.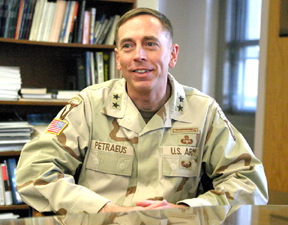 Not to worry, insists Gen. David Petraeus, Obama's commander in Afghanistan. He felt the need to come out today and again reiterate that he has absolutely no intention of withdrawing troops from Afghanistan and that he will not be "rushed" out of the country.
Petraeus made a number of similar comments in an interview last week, including conceding that the war could take another decade. The fact that he felt the need to reiterate this, seemingly only because a book release was broaching the subject of a possible end to what is increasingly looking like an endless war suggests, however, that Petraeus is in great measure playing to the crowd.
Nine years into the war, violence in Afghanistan is at record highs and the problem of government corruption seems to be getting worse with reports detailing yet another crooked election last weekend. The prospect of an endless war may seem like job security to the likes of Petraeus, but this war has already ended the careers of more than one top general.
Last 5 posts by Jason Ditz