Afghanistan's Central Bank has confirmed today that they have seized control over the Kabul Bank, the nation's largest banking chain, after weeks of bank runs and growing reports on corruption among the leadership.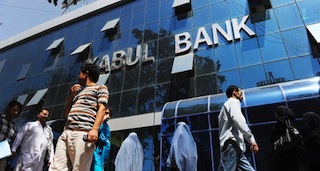 The bank's customers include much of the nation's security forces, and attempts to stop the bank runs led, in at least one case last week, to Afghan state police beating members of the national army for the crime of trying to cash their paychecks ahead of a four day bank holiday.
The bank runs were sparked by growing allegations of corruption, something perhaps unsurprising in Afghanistan. A number of the top shareholders, well-connected relatives of top government members, were said to have used the bank to float loans of questionable wisdom with the assumption that the government would eventually bail them out. And they did.
But along with a bailout that was said to have involved several hundreds of millions of dollars, came scrutiny, and promises of investigations. The real issue now is if the Afghan government really can conduct a decent investigation, and if it has any willingness to do so.
Last 5 posts by Jason Ditz