At least six people have been killed and several others wounded as US drones destroyed another home in North Waziristan's Datta Khel region, just the latest in a US air war against the region which has increased in intensity over the past week.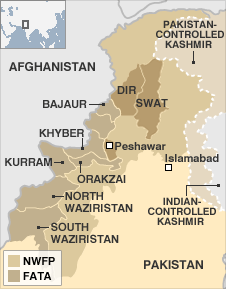 Officials say the six were "suspected" of ties of a high profile warlord from South Waziristan, Hafiz Gul Bahadur. It does not appear that any of those slain were "high value" targets, but this is part for the course for attacks which have killed dozens, including a number of children, over the past week.
The suspected ties to Bahadur could perhaps be a source of problems in this strike, however, as Bahadur has a formal truce with Pakistan's military. US officials have repeatedly acknowledged Pakistani complicity in the drone strike program, and President Zardari has bragged about providing the US intelligence for some of the targeting.
And while there is no evidence that today's attack was anything to do with the Zardari government it will almost certainly be viewed as a "sneak attack" against the warlord and could threaten to bring him back on the side of insurgents openly fighting the Pakistani military's occupation of the Federally Administered Tribal Areas.
Last 5 posts by Jason Ditz