According to a report by the United Nations refugee agency, the past two weeks of fighting in the Somali capital city of Mogadishu has left at least 230 civilians killed and over 400 others wounded.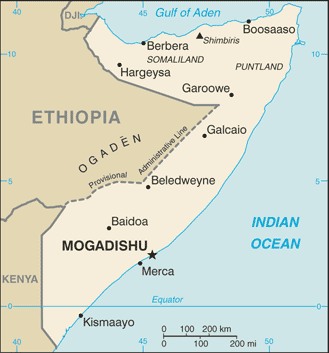 The report also estimated at another 23,000 civilians were driven from their homes, making for 200,000 which have been displaced since the beginning of the year. Civilians continue to pour out of the city and into the surrounding towns and villages.
The recent fighting has involved a push by the al-Shabaab militants into the sliver of territory controlled by the self-proclaimed government, with its supporters in the African Union sending ever increasing numbers of troops trying to secure that territory, which amounts to little more than a few city blocks at this point.
Very few Somali civilians actually live under the control of this "government," but their neighborhoods are constantly shelled by African Union troops in "revenge" for attacks on AU bases. Recent AU reports have indicated serious concerns about the large number of civilian killings by their invasion force, but there has been no indication of a policy change.
Last 5 posts by Jason Ditz