His tenure in power only lasted about 10 months. Having been transferred from his position as nominal chief of police for the self-proclaimed Somali Transitional National Government (TNG) to nominal chief of the military, "General" Mohamed Kahiye has reportedly been fired.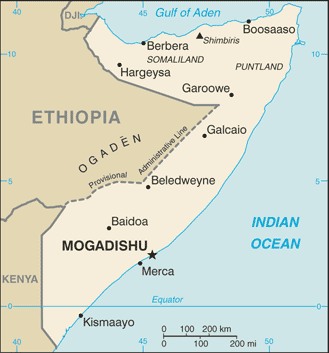 According to reports from the local media, an investigation by the TNG concluded that Kahiye and a number of other "officials" from the military were responsible for the "disappearance" of the much vaunted "tons" of small arms the US government sent to prop up the TNG and their subsequent re-emergence in the markets of Mogadishu. In short they say the evidence is that he stole and sold these weapons on the open market.
Of course, the TNG's military, such is it is, amounts to a paltry number of people who, with the help of African Union troops, control just a tiny portion of the city of Mogadishu. The massive US backing of the group and the fancy titles given to its leaders aside, they have very little in the way of legitimacy domestically.
But the loss of these weapons have yet to sink in as far as US policy goes, and the State Department has repeatedly pledged to send ever increasing numbers. Perhaps they imagine that if they saturate the region with enough weapons the local price will drop enough that it will no longer be worth stealing them.
Last 5 posts by Jason Ditz