The attempts to manufacture a scandal against the ongoing efforts to build an Islamic Community Center two blocks away from the site of the 9/11 terror attacks continue tonight, as there is a sudden report that one of the several members of a real estate partnership that bought the vacant Burlington Coat Factory has "expressed sympathy for Palestinians."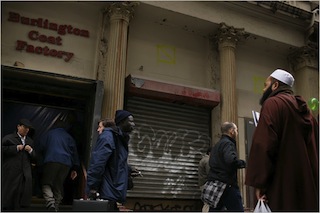 If that weren't horrifying enough, the medical clinic owner even donated $6,050 to the largest Muslim charity in the US, with funds aimed at building schools and clinics for Palestinians in 1999. After 9/11 the US shut the group down claiming it was secretly in league with the charitable wings of Hamas, which sparked a protracted legal battle which ended with the Treasury Department conceding the group's money went to "worthy causes" but upholding the ban.
Of course nobody could seriously blame Elzanaty for this anymore than they would blame Hakeem Olajuwon or Microsoft, which also donated money to the group in the same year. But as with a comment which mentioned possible wilingness to accept foreign funding for the project sparked a flurry of stories about Iran (even though the mosque is not Shi'ite and Iran presumably wasn't even considering such a donation), but it sparks an interesting scare story.
Elzanaty's donations apparently stopped more than a decade ago, and he had mentioned the danger of donating to Palestinian charities in the wake of 9/11, insisting that he was afraid that such donations would get him accused of terrorism. Not until he was linked with the mosque did this happen, however.
In while Elzanaty's donation to a charity is a total non sequitur to the "debate" over the mosque, such non sequiturs are about all we have. Perhaps it would be equally vital to note that Elzanaty donated some $1,250 to Lyndon Larouche's 2004 Presidential campaign.
Last 5 posts by Jason Ditz