In a surprising and potentially historical move, South Korean President Lee Myung-bak today unveiled a massive plan to move toward eventual reunification with North Korea, with whom they have been at war for over half a century.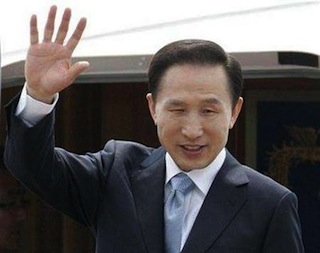 Lee issued the proposal today during a high profile ceremony celebrating the 65th anniversary of the end of World War 2, and the end of the Japanese occupation of the Korean peninsula. He urged the North Korean government to face reality and accept an "economic community" for cross border trade and eventual reunification, which would end the long-standing hostilities.
The cost of reunifying the developed South Korea with North Korea, and integrating its 24 million impoverished and oppressed residents into modern civilization cannot be overestimated, and would doubtless dwarf even the costs of the reunification of Germany, itself a nearly trillion dollar endeavor which many would argue still hasn't been completed.
But the savings would be enormous, as well as the potential of the northern Korean Peninsula coming into the developed world. The United States currently commits nearly 30,000 troops to the border between the Koreas, and has traditionally had even larger forces there. The cost of this alone is astronomical, not to mention the costs of regular US-led wargames preparing for an eventual resumption of the Korean War.
South Korean media has reported a government survey giving an estimated cost of $2.1 trillion over 30 years for reunifying Korea, and experts say it could be quite a bit more than this. President Lee has proposed a "unification tax" to allow the government to pay for the move.
Last 5 posts by Jason Ditz