A number of media outlets are citing German officials as saying that Defense Minister Karl-Theodur zu Guttenberg is poised to present a plan that would radically rethink Germany's military forces, including slashing the size of the army and eliminating all conscription.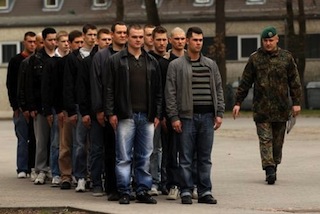 The move appears to be aimed primarily at reducing military expenditures, a particularly key issue during the current economic crisis. But it would also turn Germany's current military of conscripts into a 165,000 all-volunteer Army in short order. The plan is poised to be officially announced later this month.
Though it was briefly abandoned at the end of World War 2, Germany has had compulsory military service more or less since the early 19th century, and a number of conservatives are opposing measures to reduce or even eliminate the drafting of teens into the military, insisting it will damage the "national identity." There was massive opposition to the move by conservatives to reintroduce conscription in the 1950s.
Officials say that the move would not remove the option of conscription from the German Constitution but would effectively end its use. This appears to bring it in line with the US notion of military conscription, in which the US government still reserves the right to draft men into military service against their will, and forces them to register in case they decide to do so, but in practice has not been used in decades.
Last 5 posts by Jason Ditz