The director-general of Israel's Labor Party today threatened to withdraw his party from the coalition government unless Prime Minister Benjamin Netanyahu denounces and fires his Vice Premier and Minister of Security Affairs Moshe Ya'alon.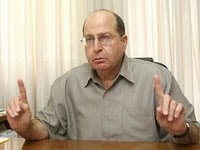 Ya'alon, who before Labor joined the government was widely expected to take the job of Defense Minister, lashed out at Defense Minister Ehud Barak yesterday in comments, reported declaring that he was "like a snake."
Ya'alon has been complaining about Barak's role in the May 31 attack on the Mavi Marmara, insisting that while he was theoretically the acting Prime Minister at the time (Netanyahu was visiting Canada), Barak didn't keep him in the loop. The attack killed nine aid workers and sparked international outcry against Israel.
Ya'alon, like Netanyahu, is a member of the Likud Party, and the Knesset Whip, Likud member Zeev Elkin, slammed the call for Ya'alon's ouster, suggesting that Labor's director "deal with his party's many problems instead."
Labor's inclusion in the right-far-right coalition government was extremely controversial, and led to a number of MPs threatening to abandon the party, though the current Israeli law prevented them from doing so.
The loss of Labor could be a major blow, as Israel's coalition government is already showing cracks on a number of other fronts. Religious blocs are threatening to leave the government over the failure to pass the conversion law, while Yisrael Beiteinu has continued to clash with Netanyahu as well.
Last 5 posts by Jason Ditz