If Afghanistan didn't already have enough problems to contend with nine years into the NATO occupation, they now have to deal with an outbreak of ethnic violence in and around the capital city of Kabul.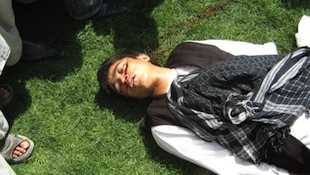 In a village along the outskirts of Kabul, ethnic Hazara villagers reportedly burned the homes of a number of Pashtun nomads. The fires sparked a clash with police that left at least two Hazara youths dead and a number of people wounded.
The Persian speaking and largely Shi'ite Hazaras make up only around 8 percent of Afghanistan's population, while the mostly Sunni Pashtuns are the largest ethnic group. Some 2 million Pashtuns live as permanent nomads, roaming around the nation in search of grazing land for their sheep and camels.
The Afghan police have reportedly sealed off the West Kabul neighborhood of the Hazaras now, locals say the police were firing indiscriminately into the crowds of Hazara protesters around the area.
Last 5 posts by Jason Ditz