After years of on-again, off-again clashes with the Musharraf and later Zardari governments, Pakistan's Jang Media Group, one of the nation's largest, it appears that their having reported an incident during President Zardari's England visit that might finally put them down for the count.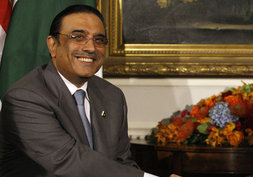 In the hours after Jang's GEO News went on the air to report that President Zardari had a pair of shoes thrown at him in Birmingham, West Midlands, ruling party officials were on the phones, calling on cable companies to block them, or else.
By the evening the cable offices were being burnt to the ground, and newsstands that carried Jang's newspapers were also being attacked, and their papers burned.
When Jang reported on the attacks, they were attacked again, and their websites were briefly downed Tuesday by what they are calling DDOS attacks. Though they made much of surviving these attacks, Jang's "The News" website has been down again, at the time of this writing, for several hours.
The PPP's General Secretary in the Sindh Province insisted that the protesters were complaining of "unfair coverage" by Jang, and demanded proof that the shoe throwing incident had taken place. Despite perception among Pakistan's ruling PPP that the shoe throwing incident was a myth made up by Jang, it was heavily covered in the Western media and doesn't appear to be in serious doubt.
This is the second time Zardari's PPP has ordered GEO News shuttered, the other time being in March of 2009. The station was also ordered closed by President Musharraf during his last "state of emergency," meaning this is the third time in less than three years the station has come under fire.
Last 5 posts by Jason Ditz