14 US citizens were indicted today on terror charges related to the ongoing attempts to prop up a US-friendly government in Somalia. Only two of the 14 are actually believed to be in the United States, with the rest currently abroad, likely in Somalia.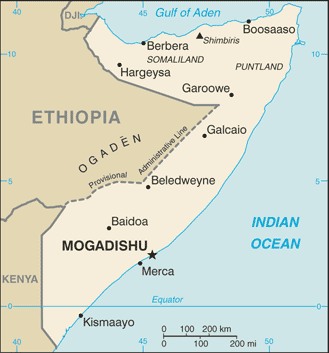 The allegations against the 14 vary, but many include "providing material support to a terrorist organization" and at least some of them are accused of having ties to al-Shabaab, which is labeled an official "foreign terrorist organization" by the United States.
Government officials said the indictees are part of a "deadly pipeline" of money and fighters from the United States to Somalia, and Attorney General Eric Holder said they were part of a "disturbing trend."
The two women being held in Minnesota are ethnic Somalis, accused of going door to door in Minneapolis soliciting donations for al-Shabaab. They are said to have sent around $8,000 to al-Shabaab.
Last 5 posts by Jason Ditz