In a press release said to be issued in Hebrew but not English today (a comparatively unusual step), Israeli Prime Minister Benjamin Netanyahu issued twin threats of "retaliation" against the Lebanese government and the Hamas government in the Gaza Strip, vowing to seek revenge for a pair of recent border incidents.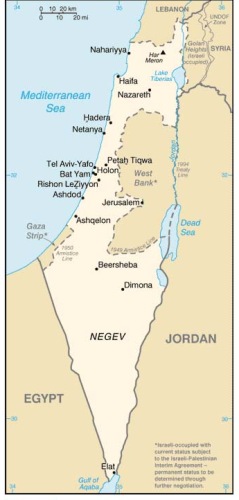 "I want to make it clear to Hamas, and also to the government of Lebanon, which we see as responsible for the violent provocation against our soldiers, do not test our resolve," Netanyahu declared.
Israeli and Lebanese troops had clashed yesterday along the border, with Lebanese troops claiming their Israeli counterparts crossed the border (something which the UN says appears untrue). One Israeli soldier, three Lebanese soldiers, and a journalist were slain in the clash and subsequent Israeli shelling.
The threat against Hamas is a little more convoluted, stemming from a pair of rocket attacks against Red Sea resorts in Israel and Jordan. The rockets came from Egypt's Sinai Peninsula, and Egypt blamed unknown militants from the Gaza Strip. Since Hamas is the nominal government of the Gaza Strip, Israel is demanding that the international community blame them for the rocket fire, though there does not appear to be any evidence they supported the strikes and Hamas has denied any role in them. The strikes killed one Jordanian civilian.
Last 5 posts by Jason Ditz