In a move which might cause a diplomatic stir, a Canadian judge has declined a US request to extradite Abdullah Khadr, the elder brother of Gitmo detainee Omar Khadr, and he has been released from custody.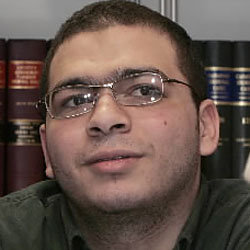 Abdullah Khadr was accused by the US government of buying arms for al-Qaeda, and has been held without bail in Canada since December 2005, pending the hearing. The Canadian government has not ruled out appealing the judge's decision but for now, the elder Khadr is a free man.
Abdullah was arrested by the Pakistani government in 2004, after the CIA paid them $500,000 to do so. His return to Canada however ensured that he would eventually see a court hearing, and long before his younger brother ever did.
The younger Khadr is one of the more well known US detainees in the war on terror. Arrested in 2002 at the age of 15, Khadr was accused of "war crimes" and has been held at Guantanamo Bay ever since. Set to turn 24 next month, Omar may soon be facing a military commission for his alleged crimes.
Last 5 posts by Jason Ditz