British Prime Minister David Cameron is facing a massive backlash today following his criticism of the ongoing blockade of the Gaza Strip. Cameron insisted the blockade 'has to change' and that the strip "must not be allowed to remain a prison camp."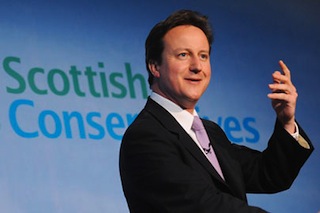 Israeli Ambassador to Britain Ron Prosor expressed outrage at the statement, insisting that Cameron should have focused instead on Gilad Shalit, the captured Israeli soldier being held by the Hamas government.
A number of Israel enthusiasts also complained that it was unfair of Cameron to mention the Israeli blockade of Gaza without insisting that it was entirely the fault of Hamas, and a number suggested that Cameron, a long standing pro-Israel hawk, had "turned" on Israel with the comments.
Cameron also used his speech today in Ankara, Turkey to reiterate his opposition of the Israeli attack on the Mavi Marmara, a Turkish aid ship that was bound for Gaza. Israeli commandos boarded the ship and killed nine aid workers.
Last 5 posts by Jason Ditz