US and Russian planes landed in Vienna this morning, swapping the 10 detained "deep cover" spies arrested by the US for four recently pardoned spies held by the Russian government.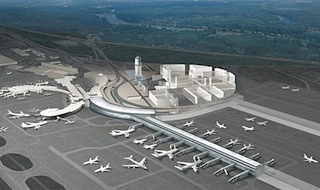 Vienna airport
The exchange lasted only minutes, with officials exchanging the detainees on the runway of the airport and then taking off. The Russian plane returned to Moscow's Domodedovo Airport, while the US plane stopped in Brize Norton air base in England before returning to DC.
The exchange puts an end to the high profile case of the deep cover spies, 10 Russians living in the US with "American sounding names" in the hopes that they might discover some interesting information. None of the 10 were charged with any espionage related offenses, as none of them appear to have discovered anything particularly secret.
The four released by the Russian government were all Russian citizens convicted of spying. Three were accused of spying for the United States or Britain, while the other was arrested on an apparently unrelated weapons charge.
The exchange was reportedly brokered by CIA Director Leon Panetta, but while it was first officially broached with Russia shortly after the arrests, it did not originate there.
Rather, according to the White House, the "spy swap" had been planned nearly a month ago, and weeks before the arrests of the Russians. The US government says it has gotten everything it hoped for in the exchange.
Last 5 posts by Jason Ditz