You can give an honest assessment of the failing war in Afghanistan, and you can be the chairman of the Republican National Committee, but can you do both at the same time? Judging from the fallout against Michael Steele, the answer is no.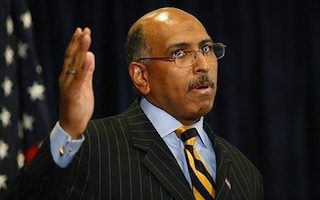 Michael Steele
Since Steele made his much publicized comments, which included noting that every nation which has invaded Afghanistan over the last 1,000 years has failed to achieve a military victory there, has faced a growing number of demands that he resign, and condemnations from top Republican officials.
"I think those statements are wildly inaccurate, and there's no excuse for them, declared Sen. John McCain (R – AZ), adding "I believe in freedom." McCain said the comments meant "Mr. Steele is going to have to assess as to whether he can still lead the Republican Party."
According to RNC officials, Steele has been on the phone non-stop since the incident trying to "explain" his statement, but with a growing number of Republican leaders making such open condemnations, and coupling them with praise for the nearly decade long war, Steele's days may indeed be numbered.
Last 5 posts by Jason Ditz