Once seen as more hawkish on the war than his predecessor, British Prime Minister David Cameron today did something Gordon Brown was loathe to even attempt, set a semi-firm date for a British pullout from Afghanistan. According to Cameron,  the 10,000-strong British contingent will be out of the nation by the beginning of 2015.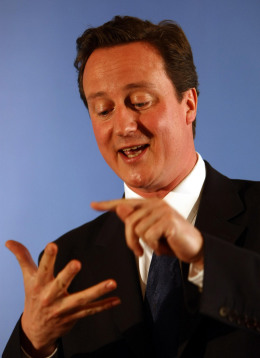 "We can't be there for another five years, having been there for nine years already," Cameron insisted, adding that civilian aid to the country might continue well after this point. This would mean British troops would be out of Afghanistan before the next national election.
Britain has the second largest number of troops in Afghanistan, though its 10,000 troops are a fraction of the roughly 100,000 American troops in the nation. In the months leading up to the election, Cameron had spoken of increasing the number of British troops in the nation. He ruled this out shortly after taking office, however.
Faced with massive budget problems, Britain is looking to significantly trim the amount of money it spends on its military, and with think tanks now openly talking about reducing the size of the military by 30,000 troops, it seems Cameron has come to the realization that the unpopular war is no longer sustainable, let alone something Britain can afford to escalate.
Last 5 posts by Jason Ditz