While at the same time reiterating the belief that UN Security Council sanctions against Iran are mere "weeks" away, something which has been officially claimed for at least six months, the EU has expressed surprising openness to giving negotiation with Iran another chance.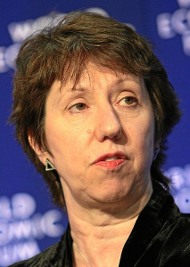 Baroness Ashton
Foreign policy chief and Baroness Catherine Ashton says that if Iran contacts her directly she would be pleased to discuss the possibility of further talks aimed at solving the nuclear dispute.
In October the P5+1 nations met with Iran to discuss Iran's civilian program, and moved significantly forward on a possible third party enrichment deal which would give Iran access to the fuel needed to produce medical isotopes.
Since October, however, the wheels have fallen off any negotiation. Iran has sought specific guarantees built into the deal, fearing the loss of its low-enriched stockpile, and Western officials have shunned calls for additional talks, demanding that Iran accept the draft, as written, with no changes.
Last 5 posts by Jason Ditz