Israel's Deputy Prime Minister and former military chief Moshe Ya'alon today announced that Israel's air force was "primed" for a war against Iran, and said that the nation also had the capability to attack Gaza, Lebanon, and fight a conventional war against Syria.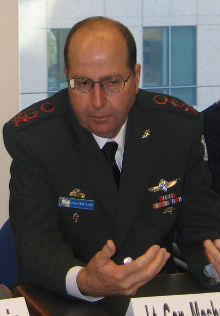 Ya'alon also said that there was "no doubt, looking at the overall situation, that we are already in a military confrontation with Iran." Israel has accused Iran of arming most of its enemies in neighboring countries.
Exactly what Ya'alon's comments mean with respect to a prospective Israeli attack on Iran is unclear, but Israeli officials have repeatedly threatened such attacks. Vice President Joe Biden said Israel had agreed to "hold off" on the attack until after the next round of UN sanctions.
Ya'alon is considered hawkish, even by the current government's standards, and has often courted controversy with blunt comments, such as declaring the Palestinians a "cancer" and likening an anti-settlement group, Peace Now, to a "virus."
Last 5 posts by Jason Ditz