The latest attempt to bring Canadian Gitmo detainee Omar Khadr before a military tribunal failed today when he refused to attend, complaining that prison guards tried to humiliate him by dressing him in blacked out ski goggles and earmuffs.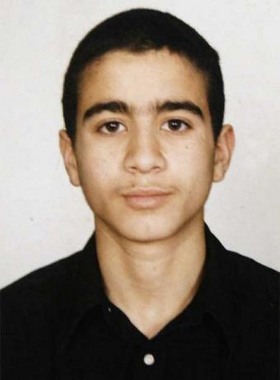 The judge recessed the hearing for today, but said that in the future he might have guards "forcefully" bring him to the tribunal so it could be explained to him how important it was that he attend.
Khadr's previous "trial" in 2008 was dropped amid the resignation of a military prosecutor, and the Canadian, originally arrested at 15, has remained in custody pending another chance for the military to bring a case against him.
The latest issue, besides the earmuffs, is an effort by Khadr's lawyer to get his various confessions thrown out on the grounds they were obtained by coercion. The FBI has defended their interrogations, however, insisting the whole process was "friendly" after the hood and handcuffs were removed from the teen.
Khadr is accused of killing a US soldier with a grenade, and today the tribunal saw a video showing Khadr at a bomb-making camp in Afghanistan. Khadr could face up to life in prison if convicted. He has already spent eight years in detention, however, and at the rate which trials are moving it seems possible he could spend life in detention even without a trial.
Last 5 posts by Jason Ditz