Having declared a victory in the South Waziristan Agency months ago, the Pakistani government is looking to convince everyone else that the offensive accomplished something by encouraging the tribesmen to return to the region. So far this is easier said than done.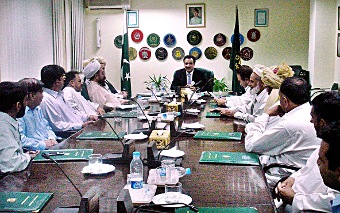 For the dominant Mehsud tribe, the region doesn't appear remotely safe to return to. One elder asked "how can we go back unless the area is cleared? This is not our land any more. It's a battleground."
Pakistan's military insists the area has been cleared, but they claimed the same thing about the Swat Valley, and twice about the Bajaur Agency. In all cases the offensive drove the militants out, but few of the leaders were ever accounted for, and as soon as the military lures the civilians back, the militants return as well.
For the Mehsud tribe in particular, trust in the government is difficult to come by. Officials were ordering mass arrests of Mehsud tribesmen across the nation in October, claiming that they were "suspected militants." When the militants return to South Waziristan, as they inevitably will, the tribe is setting itself up to be blamed once again for not stopping the militants themselves.
The tribesmen are thus holding out for security guarantees, which the Pakistani military cannot possibly make in good faith, as they lack the resources to remain in the long term to provide security. This means the refugee status of much of the Mehsud tribe is going to remain unchanged, at least for now.