Though French Foreign Minister Bernard Kouchner insists his nation remains committed to see more sanctions imposed against Iran, he conceded that growing opposition from Russia and China has made it unlikely that another round of UN sanctions will be imposed any time soon.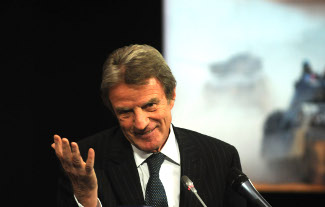 Bernard Kouchner
"I believe that yes, before June it will be possible, but I'm not so sure," Kouchner said, adding later in his remarks "but who am I to hope or decide." France had hoped to push through the sanctions in February, when they took control of the UN Security Council presidency from China.
But opposition is coming from more than just China, as several non-permanent members of the council, including Brazil and Turkey, are outspoken critics of the resolution. Though the US and others have threatened China with "isolation" for refusing to vote their way, China has insisted that diplomacy should be used to settle the dispute.
Finnish FM Alexander Stubb suggested that if the United Nations did not come through with the latest round of sanctions, the European Union would attempt to move forward with unilateral sanctions against Iran.
Last 5 posts by Jason Ditz