Though the Obama Administration's official meetings with Israeli Defense Minister Ehud Barak centered mostly on planning more moves against Iran, Secretary of State Hillary Clinton insists that she did bring up the ongoing blockade of the Gaza Strip.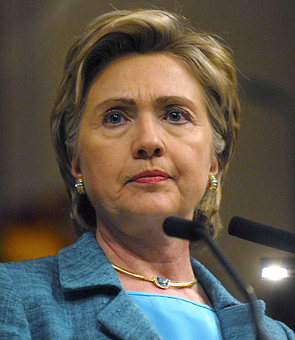 "We discussed it at length," Clinton told reporters, "we hope to see progress there." According to New America Foundation analyst Daniel Levy, Secretary Clinton was pressed repeatedly by both officials and private citizens on Gaza during her visit to the Gulf region. "It undermines the credibility of the United States," Levy noted.
US officials have brought up the possibility of easing the Gaza blockade several times, but Israel's Netanyahu government has not budged, leading many to believe that the US comments are more lip-service than anything else.
Israel's blockade of the Gaza Strip has been on for years, but since the 2009 invasion of the strip Israel has tightened it severely, allowing only the bare minimum of food and medicine into the strip and leaving enormous amounts of reconstruction aid useless, as they refuse to allow the importation of building materials.
The Obama Administration has made Israeli peace talks a high priority officially, but has made no real progress, with President Obama declaring that peace was "just really hard." Arab officials say that George Mitchell, Obama's envoy in charge of the peace process, has become so frustrated with the lack of progress and the State Department's pro-Israel bias that he has threatened to resign.