NATO's newly appointed civilian chief for Afghanistan, British envoy Mark Sedwill, today conceded that 2010 would see "many more casualties" and "an awful lot of violence."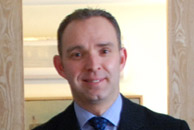 Ambassador Sedwell
Sedwell also expressed hope that the year would mark a "turning point" for the conflict, though he conceded that the troops would probably remain in Afghanistan for "a decade or more" and even after that NATO would be funding development in the nation for up to 40 years.
Sedwell was appointed to his new position last week, following a tenure as British Ambassador to Afghanistan. The position was newly created, aiming at focusing on civilian development in Afghanistan, something which has largely been ineffective since the 2001 invasion.
Britain has pledged to take a growing role in Afghanistan, helping the US with efforts to recruit NATO member nations to escalate their own commitments. Shadow Defense Secretary Liam Fox today suggested that when the conservatives take power in the next election (which analysts consider all but certain), they will push to "reform" NATO, forcing member nations to either commit more troops to the war or provide cash payments to the nations who are.
Last 5 posts by Jason Ditz