Despite a lack of confirmation and a quick denial from the Tehreek-e Taliban Pakistan (TTP), specuation lingers that this morning's Pasalkot drone strike may have killed TTP leader Hakimullah Mehsud.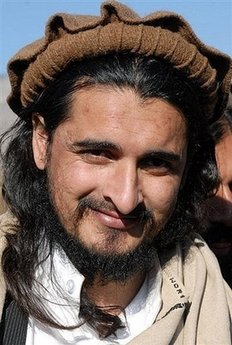 "I can 80 percent confirm that he is dead," claimed one local official. The Pakistani military was much less confident, with Major General Athar Abbas insisting that none of Pakistan's intelligence agencies had been able to confirm the reports.
The US Predator drone fired missiles at a house along the border between North and South Waziristan, killing at least 18 people. The TTP maintains that Hakimullah had already left the village at the time of the attack.
Hakimullah has a long history of being reported dead only to emerge later unharmed. US officials claimed to be convinced he was dead in early October, and he was also declared killed twice in August and once in September.
Though TTP denials related to the killing of Hakimullah's predecessor Baitullah Mehsud in August make their denial far from conclusive, Hakimullah's knack for surviving his many "deaths" suggests it is likely too soon to start speculating on the policies of a successor. If he is dead, however, the odds on favorite to replace him would probably be Wali Rehman, who has survived several apparent killings in his own right.
Last 5 posts by Jason Ditz